The International Association for Geoscience Diversity (IAGD) is a 501c3 non-profit organization dedicated to creating access and inclusion for persons with disabilities in the Geosciences.
The IAGD Vision:
Celebrate the diverse abilities of all geoscience students, faculty and working professionals by fostering student engagement in geoscience career pathways.
Develop a community of resources for faculty and student support.
Advance knowledge of access and accommodation within the geosciences through scientific research.
Promote efforts of inclusion through collaboration in research, dissemination of instructional best practices, and professional development opportunities.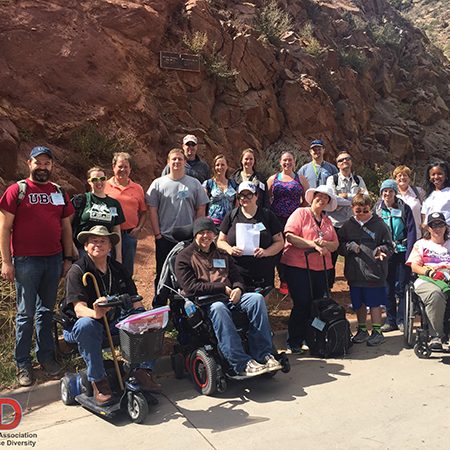 WE ARE SHAPING THE FUTURE OF THE EARTH SCIENCES!
Join our worldwide community!
As a member of the IAGD, you'll get access to these benefits:
Students: search and make friends.
Teachers: connect and help each other.

Participate in the forums to get & offer help.

Apply for travel grants

Receive updates about IAGD activities
We had an amazing time on our accessible field trip to Petrified Forest National Park in September. Lots of pictures and a blog post will be coming out soon! In the meantime, help us fund future field trips (which are 100% free to all participants) by making a donation to the IAGD Foundation.
A Student Ambassador for the International Association for Geoscience and Diversity (IAGD) will serve as a connection between the Ambassador's university and the IAGD. The purpose of this connection is to share information and resources provided by the IAGD with individual universities, while helping to create an inclusive community of diverse ability levels within the larger geoscience community.
The Ambassador will also assist in developing the IAGD Student Community by actively sharing information about educational opportunities such as scholarships and fellowships, posting information from the IAGD on their social media platforms, and maintaining an online presence in the Student Community Forums on the IAGD website.
Learn More