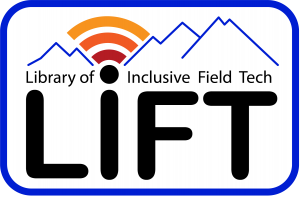 Welcome to the homepage of the LIFT kit: Library of Inclusive Field Technology
---
What is the LIFT kit?
The Library of Inclusive Field Technology mission is to provide the tools and expertise to improve the accessibility and inclusion in field trips and field research in the natural sciences through the use of technology aids. This project is supported by the National Science Foundation (Award # 1941497 ) and donor support. We are currently test-running equipment and developing support materials, and the WIFI network is under construction.  But for field programs that don't need the whole kit we are happy to loan out parts of it now. 
We will be adding a detailed catalog soon, but we currently have:
Eight iPads 10.2 inch size (with wifi capability) in waterproof cases
One Ipad Pro 12.9 inch with Lidar capability.
Eight GoPro Hero8 cameras with accessories and extra batteries.
Four GoPro Media Mods with lights. These external shells add a directional mic, extra cable ports and lighting to GoPros for enhanced video production.
Nikon P900 superzoom for photo and video (works well when paired with encoder to stream video, has an app for control through an iPad or phone).
Two video encoders for optimizing transmission of streaming video.
Long range hand radios (walkie talkies) with headsets and earpieces for improved audio communication in the field.
Two voice amplifiers for improved communication during lectures / instructions.
Coming Soon:
Equipment for a portable Wireless Network (laptop, router, mesh units, power supplies, tripods, cables, etc.) that enables devices within the coverage area to connect wirelessly.
Access Trax portable modular flooring for improving access to outdoor spaces (8 panels w connectors)
Please contact Anita Marshall, University of Florida at anita.marshall [at] ufl.edu for more information, and check out the examples below of the tools in the kit being used in field learning activities.
How is it used in the field?
The following resources show some of the many ways tech tools can enable or improve access in the field. 
Assessing The 'Open Field Lab': Evaluating Interactive Fieldcasts for Enhancing Access to Fieldwork. This website summarizes the use of livestreaming, semi-interactive field learning modules at the Open University. 
This virtual field trip site was created by undergraduate students at the University of Florida Using camera and iPad equipment from the LIFT kit: An Undergraduate's First Field Experience. Clicking on the screenshot below will take you to a great example page of how the student used the GoPros and other equipment to create a virtual field stop.
Literature
Publications about programs in which tech tools were used to enable access to field learning. From the details of implementation to critical evaluations of the social aspects of using a tech-enabled approach to access, these peer-reviewed articles cover a range of topics related to using tech to connect students to field learning activities.
Whitmeyer, S. J., Atchison, C.L., and Collins, T. (2020) "Using Mobile Technologies to Enhance Accessibility and Inclusion in Field-Based Learning." GSA Today 30 (2020). https://doi.org/10.1130/GSATG462A.1
Houghton, Jacqueline J., et al. "Access Anglesey 2018: Lessons from an inclusive field course." Advances in Geosciences 53 (2020): 183-194. https://doi.org/10.5194/adgeo-53-183-2020
Atchison, Christopher L., Anita M. Marshall, and Trevor D. Collins. "A multiple case study of inclusive learning communities enabling active participation in geoscience field courses for students with physical disabilities." Journal of Geoscience Education 67.4 (2019): 472-486. https://doi.org/10.1080/10899995.2019.1600962 
How-To Guides
Coming soon! We will be developing how-to documents and videos that walk you through the technical aspects of using the technology, and offer guidance on the educational, social and affective considerations for using the tech in a productive and inclusive way.