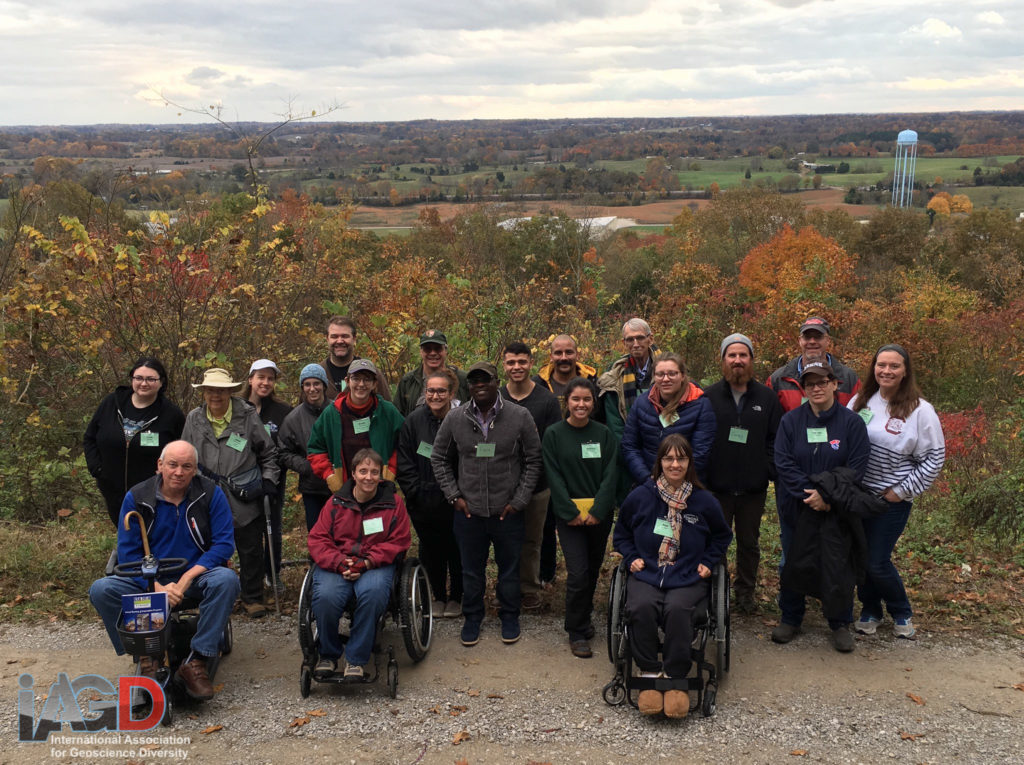 Each year, the IAGD coordinates an Accessible field trip for the Geological Society Annual meeting. This year, the IAGD field trip focused on the karst features of Kentucky, with stops at the sinkhole exhibit at the National Corvette Museum and Mammoth Cave National Park. It was wonderful to see so many new faces for this field trip!
Our first stop was the National Corvette Museum. For a quick refresher as to why this location is of geologic interest, check out this security camera footage from 2014 when a previously unknown cave collapsed beneath the main exhibit space: https://youtu.be/IukDWhf7U9I. Rather than fill in the hole and hope everyone forgot about it, the museum put in a state of the art exhibit about the collapse, the geologic context, the geophysical research that was conducted after the event, and the recovery of the cars and rebuilding of the display space. This is a uniquely accessible locality to observe a collapse structure as well as the human/infrastructure context of natural hazards.
The interactive display at the start of the Skydome Collapse Exhibit at the Corvette Museum.

Exhibit poster showing highlights from social media after the collapse. A meme showing a very damaged Corvette says "still faster than your Mustang".

A corner exhibit illustrating the geologic details and context for the cavern beneath the museum.

A row of damaged Corvettes, all pulled from the sinkhole. They are now part of the exhibit.

IAGD field trip participants listen to a talk by a geophysical scientist about the research conducted to make sure it was safe to rebuild the museum floor.

The outlines of the collapse, and the connecting cave below the museum are outlined on the showroom floor.

An access hatch in the floor of the showroom has windows to allow visitors to see down into the part of the cave that was not filled in during reconstruction. A sign reads "take a look 30 ft down into what's left of the sinkhole that rocked the Corvette world!".
More on this trip will be added soon!